If there's one thing I know about you, it's this:
You consistently give so much to your friends and loved ones this season and all year but what have you given yourself? As the bustle of the holiday season settles down & winter is settling in, this can be one of the most challenging times of year for eating healthy. If you're lucky maybe you're feeling on top of the world as the year is ending. Or like so many friends I talk to right now, maybe you're dragging.
Believe me, I know how it is because for over half of my life I struggled with emotional overeating and seasonal depression. All the cookies, holiday parties & cocktails wore me out. And the more I ate the worse I felt. All the carbs and sugar made in my body achy, bloated and uncomfortable. I would sleep horribly at night and feel lethargic during the days. Then add complicated family dynamics and all I wanted was another sugar cookie to stuff down my feelings. It was a nasty cycle that led me to feel exhausted and like what I put into my mouth was completely out of my control.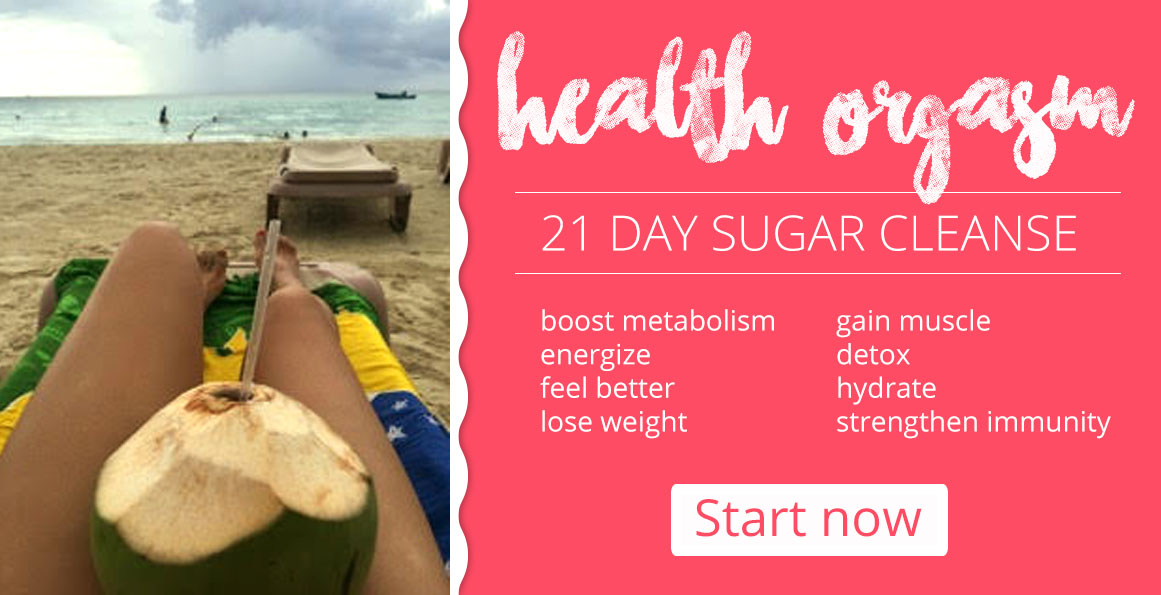 And that's a horrible way to live!
Do you feel overwhelmed just thinking about it?
Take a deep breath in & take a big exhale out.
Or maybe you think you are happy with your current workout plan but if you're honest with yourself -you know you aren't getting the definition and response you want out of your body. Do you have a consistent yoga practice or visit the gym by but still feel like something is lacking in your nutrition?
I've been there too!
It's time to hit the restart button on your life!
What patterns around would you like to leave behind in 2016?
What would you like to bring into your life in 2017?
I invite you to discover a healthy new way of eating and living in 2017.
A system that is simple, give you results & you can eat all you want while you develop a connection with your mind and listen to your body
to let go of unhealthy habits that do not serve you any longer and reinforce good ones that do!
That's why I've developed the Health Orgasm Cleanse!!! This full body bliss system is specially designed and tested to help you look and feel your best from the inside out.
Join this 21 Day Sugar Detox B4 U Retox, a GROUP PROGRAM guided by me, Afi Ayanna, Certified Holistic Health Coach & Therapeutic Yoga Instructor.
As a part of this healthy community you will get:
- 30 minute COMPLIMENTARY Health Consultation with me to discuss your health goals for this cleanse & chose whether you'd like to do the Weight Loss or Athletic Cleanse.
- Daily emails & bonuses to keep you motivated, tips, tricks, bio-hacks and recipes to keep you on track!
- 3 weekly LIVE recorded calls to answer your questions and share your triumphs and challenges with others on the same journey. We are in this together!
- a FULL Body Anabolic Cleanse Kit sent to your home
In fact if you sign up for your consultation and BUY NOW or by 12 pm EST December 31, 2017 I will take $50 off!!!
Find out all the JUICY DETAILS at
www.afiayanna.com
And did I mention the re-launch of my website? Stop by & see what's new. I've spent the last year learning and growing as a person, loving the life I live & living the life I love!
Won't you join me in this potent portal of change?
Peace, Prosperity & Optimal Health to You & Yours,
Afi Ayanna
P.S. The answer to your freedom is already inside of you.
P.S.S. Here are a few testimonials from past cleanse participants that lost 8-15 pounds in this supported cleanse.
"When I heard about the cleanse from a friend, I was a little worried about being able to work and do the cleanse. But Afi was very supportive in helping me work it together with my work day. I'm so glad that I was able to do the cleanse and was successful in following thru with Afi's support and guidance! I felt very good during and after the cleanse. My energy level was better. I am signing up for another program this month. Thank you Afi!"
-Liz
"My favorite part of the cleanse was the daily email! It felt so good to have a personalized plan for each day. Made following the protocol so much easier knowing there was someone there who was gently holding my hand through it all. I felt like a queen who could conquer anything. Thank you for being so thorough and thoughtful. It meant a lot and made me feel you truly were committed 100% to my healing. Loved the phone check-ins too."
-Miss E
Still hesitant? Ok, let's talk! I've been there...
Click on the link below for a FREE 15 minute laser focus conversation about the Health Orgasm Cleanse and how it fits YOU & your exact needs!
I promise you'll feel better after you talk to me!
Good Health is contagious!
www.calendly.com/afihealthyhappy
©2015 Afi Ayanna. All rights reserved.